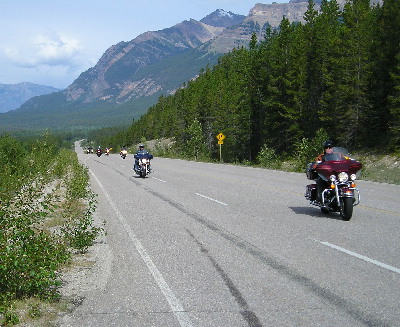 This is the first of a three part series of articles of the Blu e Knights Chapter CA-1 Ride to their West Coast Conference in Calgary, Alberta, Canada in August 2009

The big day for the 2009 WCC Calgary Ride arrived and 15 riders congregated at the Carl's Jr. in Marysville  on Tuesday, August 11th, for the 13 day adventure to Canada. The ride was divided into two rider groups with myself leading Group 1 and Merle Schneblin in charge of Group 2.  Group 1 departed Marysville at 0805 hrs and were joined by John Valle and Dennis Coffelt who rode with us as far as Redding.   Group 2 departed 10 minutes later.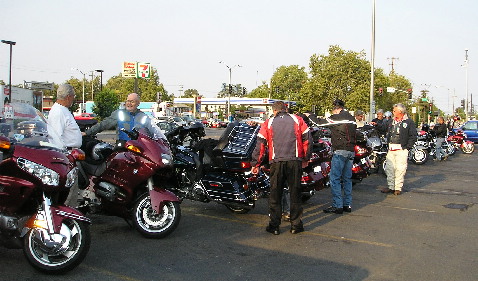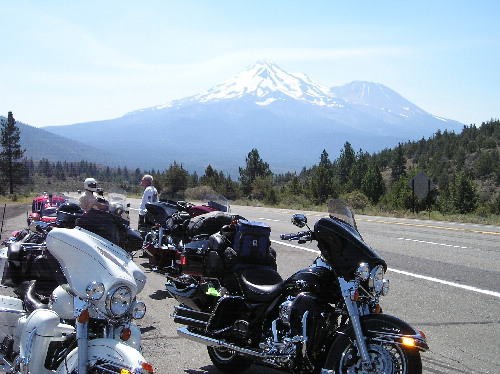 The route took the groups north on CA 70 then to US 99 and onto Interstate 5 to Weed     After several delays for road construction along US 99,we arrived in Weed about 1150 hrs.  From there, we would take US 97 to the Canadian border   Clear weather was the order of the day all the way to Bend, where we would spend our first night at the Days Inn.  Lu Linebarger had a low tire by the time we reached Bend at 1700 hrs.  Lu immediately rode to the nearLes Schwab tire store where they extracted a screw from his right rear tire.  He was back at the Days Inn a half hour later with repairs completed.  Don & Judy Mahlke had a problem with the trunk latch on his new Honda Goldwing.  A quick trip to the Honda shop in Bend solved that problem.  No Harleys experienced any problems.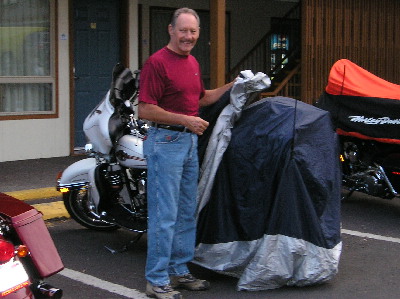 Day 2 – Wednesday,  August 12
The next morning, we woke up to overcast, but only ran into a little rain just before crossing the Columbia River into Washington, not enough don rain gear. It was  cloudy as we entered Washington, but weather cleared by the time we reached Yakima.  Had a great lunch at Miner's Drive-in where we were joined by Karl Hutchinson and Pam Beck .  Rick Rivera  in Group 2 experienced a shifter problem on his Harley prior to Yakima.  A temporary repair was made and when Group 2 arrived at Miner's, Jim Hutton came to the rescue with a permanent fix in the form of a new bolt for the shifter. Afte lunch, Karl put us onto a great road, Hwy 823 or Canyon Road along the Yakima River.  After a refueling stop just outside Ellensburg, we continued on US 97, which brought us up into the tall pines, and then down along the Columbia River to Omak.  We arrived at our motel in Omak at 1825 hrs and group 2 rolled in 20 minutes later.  . A couple of people made use of the heated indoor pool soon after arrival.  Everyone was pretty tired after the 415  mile day and turned in shortly after dinner.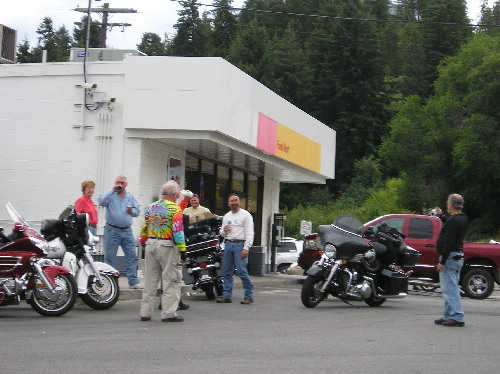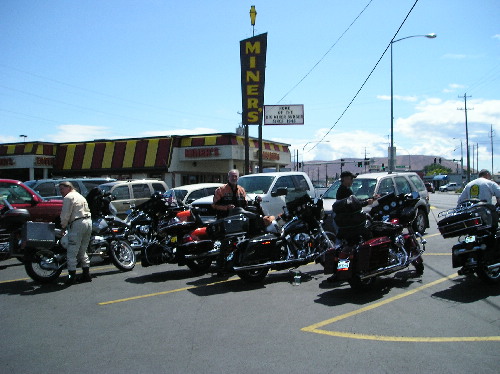 Day 3 -Thursday,  August 13 
We left Omak, WA, and headed into Canada after a restful night at the Omak Inn.  Some got more rest than others.  John Barrow, Jim Hutton and Bob Casselberry shared a room with only 2 beds as the motel didn't have a rollaway bed.   There is still some question as to the sleeping arrangements. We won't pursue that subject any further.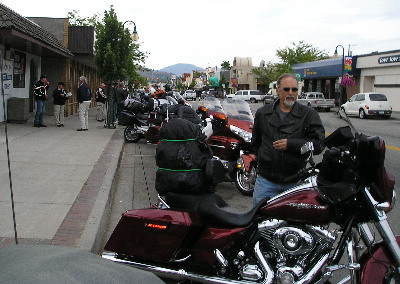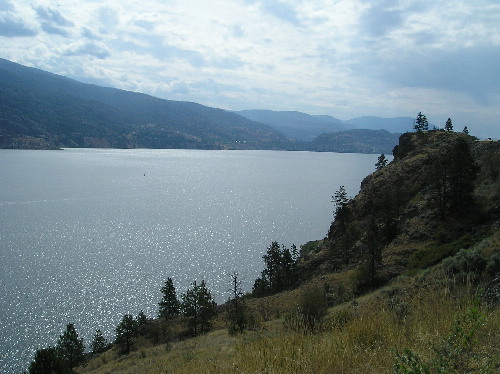 After a stop in Oliver, BC, to exchange some of our greenbacks for some very colorful Canadian currency, we made our way along scenic Hwy 97 to Kelowna where we met Mack & Marie McCormick.  Some more riding along some of the beautiful lakes of British Columbia brought us to Clearwater, a quaint little community in a wooded valley.  As we rode into the parking lot of the Ace Western Motel, we could see a rainbow arching over a distant mountain.  Fortunately, that was the closest we got to any rain that day.  Our weather consisted of overcast becoming partly cloudy as we neared day's end. There were no mechanical problems today.  However, Wayne Vandersyde decided he needed a new rear tire, and after Kamloops Harley Davidson got through with him, Wayne thought he might have to take out a loan to finish the trip!  
                                 
Day 4 – Friday August 14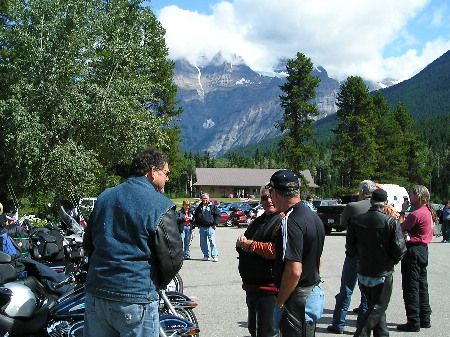 We said farewell to Clearwater, BC, after a great breakfast in the Caboose Restaurant next to our motel at 0800 hours, but not before Lu, my roommate, tried to throw away my Arizona IX baseball cap while I was in the washroom (that's Canadian for restroom).  The waitress saw it on the table and asked if it was his.  Lu told her he didn't know whose it was and told her to throw it away.  I know it's getting a little crusty, but I like that hat, Lu. 
The sky was a clear blue and the sun felt warm as we headed down the road.  The warmth was short lived as we started experiencing some overcast and our elevation rose.  About 25 miles down the road, it was time to pull over and add some warmer clothing.  By the time we reached our first fuel stop, the sky returned to its bright blue hue, however the air remained crisp.  After a quick cup of coffee, we were on our way again. 
We rode the tree lined highway surrounded by two mountain ridges until we reached the visitor center at Mount Robson, the tallest mountain in the Canadian Rockies.  It was a spectacular sight, a granite monolith that rose to nearly 13,000 feet.  After an extended photo op, we were on our way again and soon entered AlbertaProvince and JasperNational Park.    By 1315 hours, we rolled into the town of Jasper, where everyone By 1515 hours we were on the road again making the leisurely ride along a turquoise color river comprised of glacier water.
 We arrived at our destination for the night at the Days Inn in the town of Hinton an hour later, about 50 miles east of Jasper.  After checking in, the group wandered down to a nearby eatery and reminisced on the day's events.
 In all, you couldn't have asked for a better day,  good weather, great riding, great company, and good food.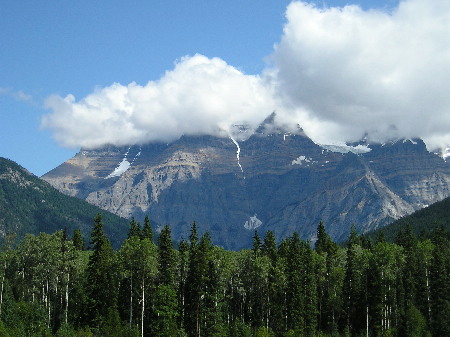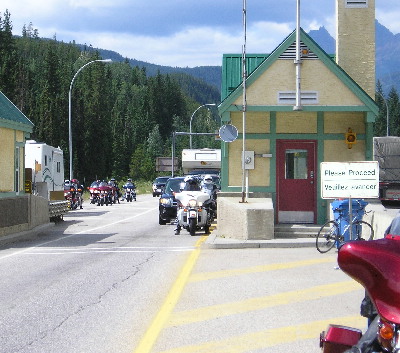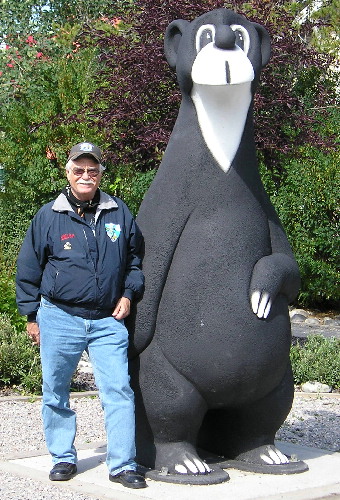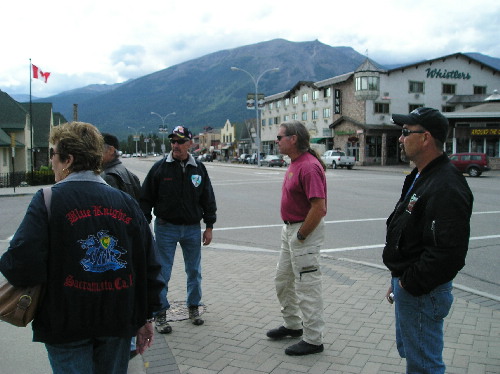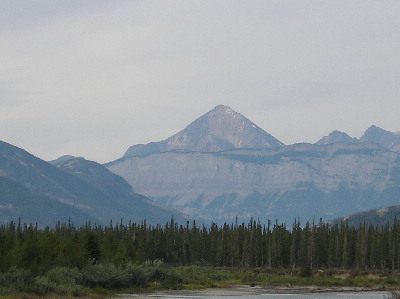 Day 5 – Saturday Aug 15     
Greetings From Banff!!!
We departed Hinton, AB, at 0800 hours this clear and crisp morning with temperature in the mid 40's.  This is the kind of weather that puts color in your cheeks.  Of course, everyone was bundled up in their warmest togs.  We did our 1st photo op along the Yellowhead Hwy (Rte 16) for a photo of PyramidMountain on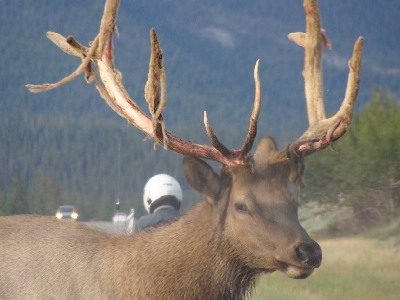 the way back to Jasper.  Along the way we spotted a young elk on the side of the road and pulled over for more photos.  Lu and Karl developed an up close and personal relationship with the elk when he walked nonchalantly across  the rode between their two bikes.  As the elk disappeared into the trees, we continued on our way to Jasper to top off our fuel and grab some coffee before our 147 mile ride down the Icefield Parkway to Lake Louise.  There were plenty more photo ops along the way, including an extended stop at AthabascaFalls.  Lunch time found us at the Columbia Icefield and AthabascaGlacierVisitorCenter.  Then it was onward to Lake Louise with more stops for photos.  It seemed like every turn in the road presented us with another postcard like photo.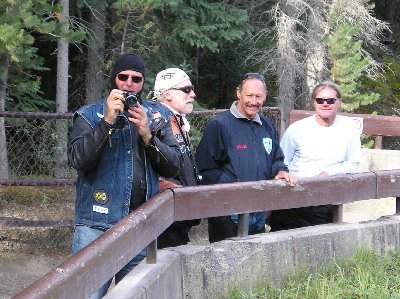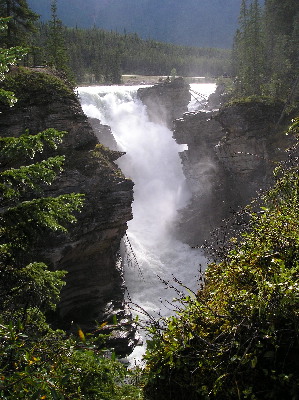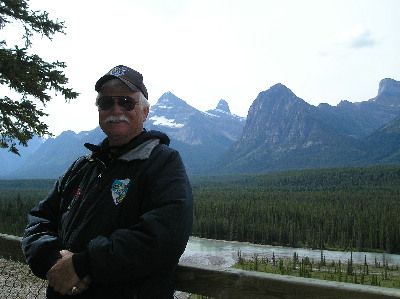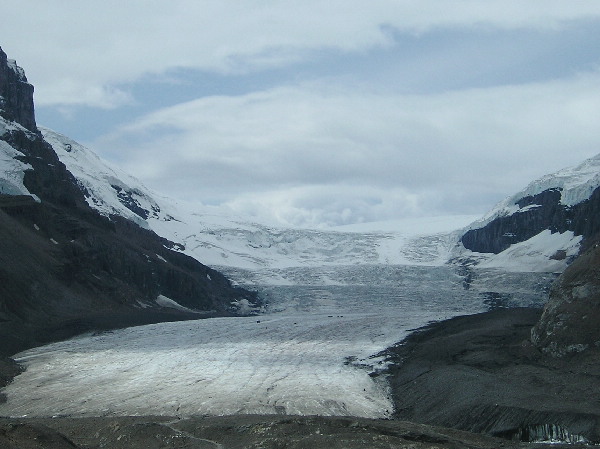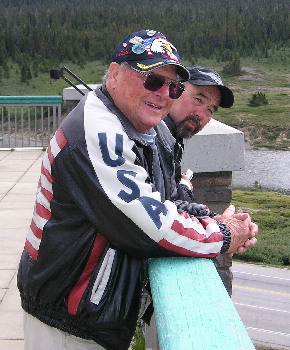 Arriving at Lake Louise, we checked out the glacier overhanging the far end of the lake and took a tour of the ground floor of the Chateau Fairmont Lake Louise Hotel, a famous landmark in the area.  After about an hour we headed down the road and found our way to our hotel in Banff.  After we checked in, every one decided to check out the nearby eateries.  After a sumptuous meal, everyone turned in.with eager anticipation of tomorrow's adventures.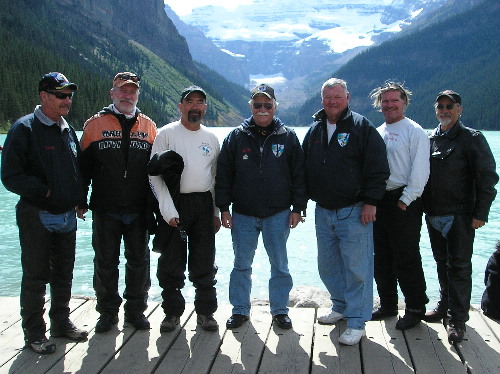 Day 6 – Sun, Aug 16
 We had a rather leisurely day today.     We had planned to ride back 38 miles toward Lake Louise to the Lodge at Ten Peaks to take the gondola ride for picture taking of the lake and surrounding mountain  peaks.  Well,  the previous day we were delayed by construction on Hwy 1 and we didn't want to deal with it two more times(there and back).  In addition, we were getting a little drizzle this morning, so we decided to check out downtown Banff after breakfast. 
By 1000 hours, the drizzle had stopped, so we rode a short 3.9 km (that's about 2 ½ miles) to the Banff Gondola. We rode the gondola up the mountain for a view of  BowValley and the surrounding peaks.  We didn't regret our change in plans.  What a spectacular view! After arriving at the visitor center at the top of the mountain ridge by enclosed gondola, John Barrow, Jim Hutton, Warren Vandersyde, Mike Baum and I decided we wanted an even better view.  This involved a trek up a wooden stairway to the peak where there was a lookout point overlooking the valley. Again, we were rewarded for our efforts with even more views of the valley, nearby peaks, the town of Banff, and rivers and lakes into the distance.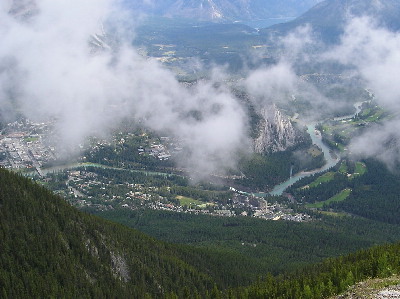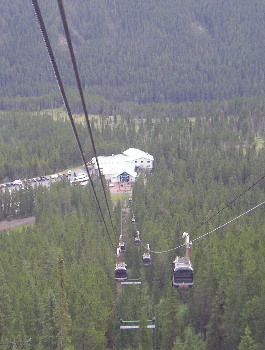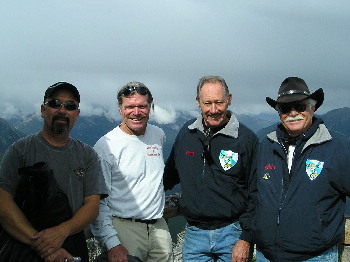 After our excursion, we rode back to Banff, where we broke up into smaller groups and scoped out our respective lunch spots.  After lunch, the weather began to threaten us with some rain, so we donned our raingear before setting of to Calgary.  Luckily we only ran into two short showers in the 78 mile ride to the Delta Bow Valley Hotel, site of the 2009 WCC Conference.  Bob Casselberry, Rick Riviera and Joe Rawson departed our group at Banff to continue to their final destinations.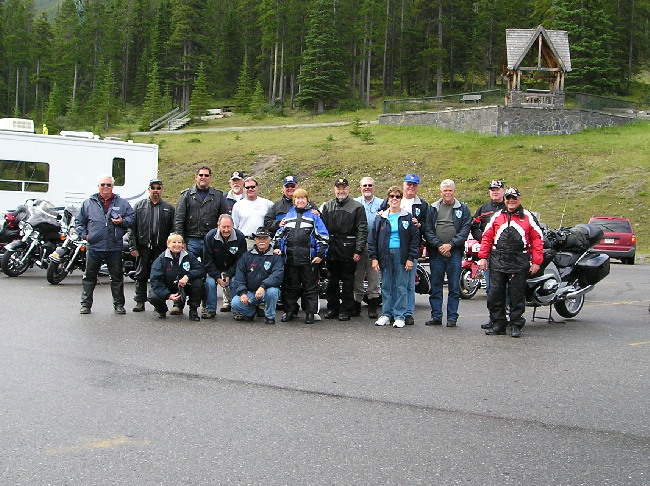 Our Calgary riders included: (Group 1) Mike Martin, Karl Hutchinson & Pam Beck, Jim Hutton, Bob Casselberry, Lu Linebarger, John Barrow, Warren Vandersyde, and Mike Baum.  (Group2) Merle Schneblin, Don & Judy Mahlke, Rick Rivera, Joe Rawson, Joe Dean, and Bob Bell

Check back later for Part 2, The  Blue Knights 2010 West Coast Conference  at Calgary